The following is a prime example of the type of crazy-ass ordeal people will endure for the sake of science.
I have been to Bolivia four times, collecting chili samples and conducting various in-field experiments. That first trip will always stand out in my mind, because I saw so many bizarre, terrifying things for the first time. Take, for example, the "sketchy bridge."
For days, as we'd been surveying different populations in the Gran Chaco, one of the more senior scientists had been gleefully warning me about the bridge we had to cross soon. I, in my naivety, was imagining some kind of wooden plank bridge, maybe the kind that are fastened together with metal bands, that has small gaps between the boards so you can see whatever it is you're driving over.
What I was not expecting was that the were about to drive the field truck across a train bridge – a bridge with no railings that is just wide enough for a train, because there are no bridges built for cars within an eight-hour drive to cross over the river several stories below.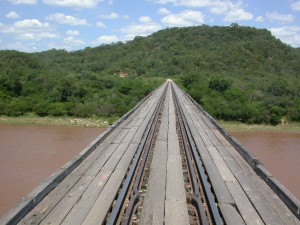 We just drive really slowly and hope the winds don't pick up.
But what about the trains, you ask? OF COURSE TRAINS ARE ALSO USING THE BRIDGE. A train crosses the bridge in each direction twice a day, around noon and midnight each day. Unless it gets delayed, which happens often in a country where one of the only ways the people can get the government's attention is by blockading the roads and stopping traffic.
Driving across the bridge is especially thrilling at night, because you can't even see the half-meter of water that the truck would plummet into if it veered off the edge. There's just darkness, and the ability with flash to see just how not-well-made the bridge is.
Happy sampling!